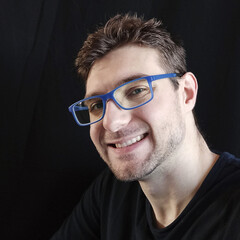 Enguerran CENTI
3D modeler / texturer / generalist
Namur, Belgique
About
3D artist focused on modeling, sculpting and texturing for 3D feature animation/VFX, I am capable of creating high quality assets from realistic to cartoon.
Passion for my work, will to learn and breathing life to imagination are what pushes me forward. I enjoy challenges and working with dynamic teammates!
I love to concept characters and creatures. I am passionate about science/technology as well as nature and history. I practice Aïkido, archery and running.
Skills
3D Modeling
Digital Sculpting
Texturing
PBR Texturing
Digital Painting
Team Management
Software proficiency

Maya

ZBrush
Photoshop

Mari
Substance Painter
3DCoat

Nuke

Arnold

Redshift

V-Ray
Shotgun
Productions
Movie

Vic the Viking - The Magic Sword

Year

2019

Role

3D environment / props modeler

Company

Dreamwall
Experience
"Joker Joe" - 52 x 13'

Supervising: layout, modeling (props, environment, vegetation), rigging, texturing/shading, set-dressing, lighting and rendering.

Maya, Zbrush, Substance/Photoshop, Vray, Shotgun, Deadline.

"Joker Joe" - 52 x 13'

Responsible for 3D props modeling. Then moving to the pipeline/core-production team.

Maya, Zbrush, Substance, Vray.

"VIC THE VIKING: the movie"

Responsible for 3D environments and props modeling.

Maya, Zbrush, Arnold.

"GASTON LAGAFFE" (feature animation 4D ride) for Spirou Provence theme park.

Responsible for 3D environments and props modeling/texturing/shading and set-dressing.

Maya, Photoshop, Redshift.

Preparing all 3D ressources/render passes for matte-painting and precomp in Nuke.

Maya, Nuke, Photoshop.

Creation and management of vegetation - lookdev/modeling/sculpting and final texturing.

I developped my own process to create the assets, matching the "vectorial" aspect of the movie/comics. Are concerned: trees, bushes, groves, flowers and custom models.

Also responsible for props modeling.

Maya, Zbrush, Photoshop.

Internship as 3D modeler for the movie Zombillenium.

Responsible for props modeling.